Landscape Construction Moline, IL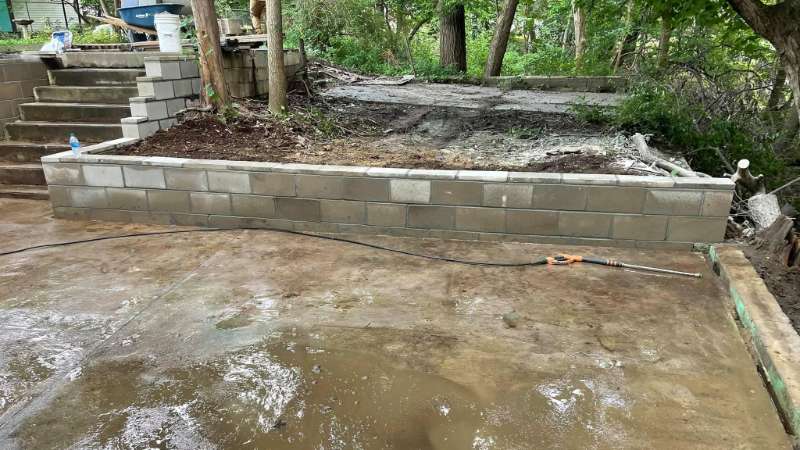 Incorporating Masonry Into Your Landscaping Enhances Aesthetics and Curb Appeal
There are a number of ways you can incorporate masonry construction or stonework into the landscaping of your Illinois property.  Some of the more common masonry projects would be the construction of outdoor patios, outdoor cooking areas or fireplaces, retaining walls, garden beds, water features and other brick or natural stone features.
R.A Masonry, LLC is a masonry contractor based out of Moline, IL and serving Rock Island County, Scott County and the surrounding area.  We specialize in designing and building beautiful stone and brick structures for residential and commercial construction projects throughout our Illinois service areas.  From helping you design and build a beautiful new brick patio to changing the entire look of your property with tiered retaining walls to building a natural and inviting outdoor cooking area there isn't a landscape masonry project we can't handle.
Landscape Masonry Construction
Patios Made With Brick, Stone or Pavers
Outdoor Pathways Made With Brick, Stone or Pavers
Brick, Stone or Block Retaining Walls of Any Shape or Size
Small Ponds and Water features Made With Brick, Stone or Block
Front Porches or Entryways Made With Brick, Stone or Block
Brick, Stone or Block Support Columns
Cracks, Moisture And Your Landscape Masonry
The smallest cracks in masonry can allow moisture to slowly enter and with our cold winter weather it can then freeze.  The freeze thaw cycles and constant expansion and contracting of the masonry will often result in tiny cracks becoming much bigger cracks and eventually threatening the structural integrity of the masonry itself.  Any masonry you are going to incorporate into your landscaping should be completed by trained professionals using techniques that have been refined over centuries.
Hiring The Right Mason For Your Outdoor Masonry Projects
There is more to it then the careful application of mortar and stacking one stone or brick at a time.  Masonry is an art form and one that takes many years to develop.  When it comes to outdoor masonry structures such as a patio, retaining wall or outdoor fireplace you want the construction to last a very long time.  The durability and longevity of the masonry will be a direct reflection of the skill and knowledge of the mason who constructed it.
R.A Masonry, LLC has more than 6 years of experience working on outdoor landscape projects that involve masonry or stonework.  If you have a landscaping project that involves masonry, stone or brickwork and you'd like to have a professional and detailed estimate then please give R.A Masonry, LLC a call today.
If you'd like to schedule your initial consultation or an estimate please call (309) 230-6851 or fill out our online contact form and we'll get right back to you.